Tibetan-style, Nepali & Indian Incense Page

We have a $15.00 minimum. Additional shipping charges will apply on foreign orders outside the US.

~~~~~~~~~~~~~~~~~~~~~~~~~~~~~~~~~~~~~~~~~~~~~~~~~~~~~~~~~~~~~~~~~~~~~~~~~~~~~

Aromatic Nepali Dhoop, Incense - Very high quality, hand-made in Nepal.

"Perfectly safe for the inhalation and the environments as well."

Natural essential oil, flowers, leaves, fruits, peels, grasses, wood, bark, resins, roots, spices. Aromatic herbs using only natural binders, these incense are perfect/made especially for Aromatherapy. A 'joss' type, without a wooden stick, they are pure incense. Because of the quality and lack of burning wood, these blends have been acceptable to many people suffering from allergies and hay fever, people who cannot usually burn incense.

Approximately 19 sticks, 19 cm long per bundle, (aprox. 7-1/2 inches) widths vary depending on the blend.

$3.95 a bundle.

The following description come directly from the packages:


TIBETAN INCENSE BUNDLES:

Very 'earthy' in nature. No perfumes or chemical additives, just pure, hand-blended and rolled natural ingredients. Made in Nepal. Excellent for purifying the home and sacred spaces. Perfect incense for meditation and ritual.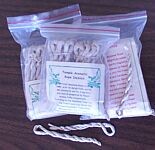 NEPALESE TEMPLE ROPE Incense - Customer Favorite! "This delightfully subtle and pleasantly earthy fragrance was specially prepared by Nepali women. According to the Nepalese tradition only the finest medicinal herbs like Sandalwood powders, Cedarwood, Benzoin resin, Myrrh resin, Frankincense resin, Fair and Adurherbs are wrapped in rice paper." 

40 hand-twisted ropes per pack. Handmade in Nepal. $4.95

This page was last updated on: 1/3/2022
AMBER: A haunting fragrance, woody and spicy.

CEDAR WOOD: Woody, reminiscent of sandalwood but slightly 'dryer'. Cedar is a Semitic word meaning "the power of spiritual strength" and represents a symbol of constant faith. One of the oldest aromatics used as temple incense in Tibet. A valuable aid to meditation though its reputation comes from steering strayed individuals back on the path.

CINNAMON: Spicy, sharp, sweet and musky. The ancient believed that no remedy or treatment was complete without cinnamon. A very old spice, once regarded as a precious substance particularly for use as temple incense. Excellent for exhausted states and feelings of weakness and depression.

FRANGAPANI / MAGNOLIA: Delicately floral-delightfully well. Cooling, moisturizing.

CITRONELLA: Slightly sweet and lemony. In aromatherapy, it has some reputation for helping clear the mind, depression and soothing effect on the mind. Particularly helpful in cleaning the lungs, has excellent effect on respiration, eases shortness of breath and useful to Asthma sufferers.

FRANKINCENSE: A haunting fragrance, woody, spicy with a hint of lemon. Relaxing, uplifting, calming and mildly antiseptic. Frankincense means 'real Incense'. it used to be burnt as an offering to the gods and used as an aid to meditation, a tradition still in practice in some religions. Slows down breathing producing feelings of calmness. This tends to bring about elevating and soothing effects on the mind. Particularly helpful in cleaning the lungs, has excellent effect on respiration, eases shortness of breath and useful to Asthma sufferers.

GERANIUM: Sweet and heavy, a little like rose with minty overtones. Once regarded as a great healing plant and often used as a remedy for wounds, tumors, choleras and fractures. To the nervous system, quells anxiety and depression and uplifts the spirits. Puts mind back into balance. Perfect to put you in a good mood, gives you energy or relax you totally.

GOLDEN CHAMPA: Woody, refreshing, beautiful floral. Aromatic Golden Champa is the aroma of the female LAXMI, Goddess of Wealth. It is useful as an element for relieving pain from headaches, rheumatism, gout, allergy, gastric and urinary problems. It keeps the eyes cool and refreshes and activates the brain.

HIMALAYAN JUNIPER: Clear, refreshing and slightly woody. Juniper has played a major medicinal role in the treatment of many contagious diseases. Juniper was burnt to scare of witches or demons. Clears, stimulates and strengthens the nerves. It purifies the atmosphere has a calming effect for the over-stressed is also good for PMT.

HOLY BASIL: Very clear, sweet and slightly spicy. Basil not as a mere plant, but as the divine representative of Lord KRISHNA. A basil dhoop kept at doorstep of a house keeps the atmosphere pure and keeps mosquitoes away. A good for the nerves, especially when feeling fragile. Sharpening the senses and encouraging concentration. An uplifting effect of depression.

JASMINE: Sweet and flowery. Jasmine is prized above all for its scent which is romantic, rich, exotic and makes all who smell it feel better. Valuable remedy for severe depression. It is calming to the nerves and warming to the emotions, producing positive feelings of confidence.

LAVENDER: Floral, light and clear with woody undertones. Its balancing effect on the central nervous system may well be valuable in manic-depressive state. Lavender dhoop may be used to keep moths and insects at bay. Its insecticidal properties being most pronounced.

LEMONGRASS: Strong, sweet and lemony. Dried leaves were burnt to keep the mind alert and repel insects. Stimulating, reviving and energizing. Useful in states of exhaustion. Lifts the spirits and gets things moving again.

MUSK: A haunting fragrance, woody and spicy.

PATCHOULI: A strong, earthy and exotic fragrance yet sweet and spicy too. Patchouli has been a much-prized herb and symbol of peace and love. Its rather earthy aura promotes a grounding and balancing effect thereby clarifying problems and making the mind more objective.

ROSE: Deep, sweet and flowery-an exquisite perfume. Rose is a symbol of love and purity. The Buddhists use as a form of rosary, an aid to meditation and prayer. In aromatherapy, it is a soothing effect on the emotions, particularly depression, grief and resentment. Lifts heart and eases nervous tension and stress.

SANDALWOOD: Woody, sweet and exotic, subtle and lingering. From ancient times sandalwood has been a favorite dhoop for embalming. Its calming effect was a useful aid to meditation and its popularity in religious ceremonies. Soothes nervous tension and anxiety, it helps to bring peace and acceptance.

TUBEROSE: (RAJNI GANDHA) Sweet fragrance. Tuberose is equally popular in both home, garden and commercial field for its beautiful, sweet and scented flowers for its slightly intoxicating fragrance. It is regarded as the symbol of voluptuousness in the west and as one writers opinion 'a good girl should not breath the odor of the tuberose or she will hardly be able to get rid of the intoxicating influence. The plant is highly prized for its strangely fragrant flowers. It blooms after evening and makes a pleasant environment all around with sweet fragrance.

VETIVER: Deep, smoky and earthy fragrance. Vetiver is the scent which associates with summer. Ayurveda recommends vetivert root in infusions to reduce thirst and fevers. It has balancing effect on the central nervous system and very helpful in case of mental and physical exhaustion. It has the ability to promote sleep, so is helpful in cases of insomnia.

YLANG YLANG: Sweet, floral, exotic and heavy. "Flower of Flowers" Since the flower has so sensual a fragrance, it has always been used to symbolize love. Relaxing to the nervous system, resulting in feeling of joy, it could well ease feelings of anger and anxiety.





HEM Incense Sticks

Hand-rolled in India, each box contains 8, highly fragrant, incense sticks.

$3.00 for 2 boxes.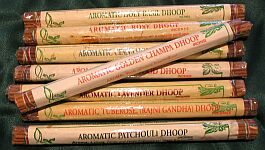 KHUS: Fragrant with a sharp, woodish/herb scent. Not dissimilar to a strong aloes or rosewood blend. CLOSEOUT!

CAMPHOR: Biting, crisp and clean. Very reminiscent of eucalyptus. Purification. Physical energy. Health. Celibacy. Chastity. Controlling influence. Release. Endings. Divination. Planet: Moon. Element: Water.

DIWALI SPECIAL: Sums up Diwali...the festival of lights, setting your life a glow with festive splendor. CLOSEOUT!

MOLDAVITE: the Star Gem. - CLOSEOUT!

SANDAL: Woody, sweet, warm and exotic--a very excellent sandalwood incense! Consecration. Divination. Luck. Spirituality. Meditation. Healing. Success. protection. Contacting other planes. Devotion. Offerings.

~~~~~~~~~~~~~~~~~~~~~~~~~~~~~~~~~~~~~~~~~~~~~~~~~~

We have a $15.00 Minimum. Additional shipping charges will apply on foreign orders outside the US

KETAKI: "Bittersweet and exotic" This blend seems to snap you 'awake'. Good for space cleansing, meditation and energy work.

PURE GOJA - Musk & Jasmine mixed. "It is Traditional Himalayan Remedies According to the centuries old formula. It is composed of 35 different Himalayan Herbs." $4.95

SNOWLION Tibetan Incense - Special Quality - Zimpu ritual incense, made in the ancient traditional manner of the monastic order of Tibet. Composed of 55 ingredients of which saffron, nagi, red & white sandalwood form a part. $4.95 a bundle.

DRAGON'S BLOOD: A sweet yet energizing incense. Used for purifying negative environments, energizing and power.

GREEN TARA  Green Herbal Tibetan Incense. 8" inch bundle - $4.95

Description from package: "GREEN TARA Incense has been prepared according to the Religious Tibetan texts. Its composition concists of only Green herbal and Medicinal Plants. As it is prepared by using only fresh and Green Medicinal Plants and Herbs it gives a very different type of fragrance and the peacefulness you get is total insane.very out of this planet. Burning this incense gives you peacefulness and a kind of satisfaction along with a very advantageous aroma. That is why it's been called and known as GREEN TARA."

PEPPERMINT: Strongly piercing, sharp, menthol fragrance. Aromatherapy recomend. Its cooling nature seems to relieve states of anger, hysteria and nervouse trembling. Excellent for mental fatigue and depression.

JIMPU INCENSE - Tibetan Incense. 8" inch bundle -$4.95

Description from package: "This incense "This Jimpu Incense" is prepared according to the knowledge and precedures stated in the Himalayan Herbal Texts (Ayurvedic). The speciality of this incense is this that it is composed of very special Natural and Medicinal Herbs and Plants.

This incense is used for religious ceremonies, and while meditating. It has total religious effects and uses that is why it can be stated that while burning this incense the Evil spirits and the Bad omen are bound not to harm or you are guarded and protected from the Bad Omen and the Evil. Along with protection the warm fragrance gives purity and calms the inner self.." Made by Hand in Nepal.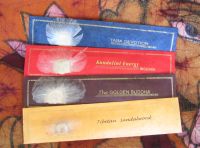 KUNDALINI ENERGY - Pure Natural Incense. 15 sticks (15 GMS). $3.95

These wonderful incense are 100% natural -- Guaranteed free from any toxic substances. Each Hand-made Paper package, (accented with a real pressed natural Himalayan Flower!) is Vegetable Dyed, making it Green Friendly!

GREEN TARA - Pure Natural Incense. 15 sticks (15 GMS). $3.95

* formerly TARA DEVOTION

THE GOLDEN BUDDHA - Pure Natural Incense. 15 sticks (15 GMS). $3.95

A sort of musky floral, yet very spicy blend--an excellent scent!

SACRED SANDALWOOD - Pure Natural Incense. 15 sticks (15 GMS). $3.95

If you like Sandalwood incense you have to try this one. One of the best sandalwoods we've come across. CUSTOMER FAVORITE!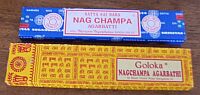 NAG CHAMPA INCENS - Known as "the most popular incense on the planet." We have several varieties of this strong, very fragrant blend.

The BLUE box is the more known Satya Sai Baba, Nag Champa Agrabathi.

The GOLD box, Goloka Nag Champa Agarbathi, is very similar but with a hint of citrus and slightly less florally sweet. Many long-time Nag Champa fans enjoy both equally.

Hand-rolled in India. 15 Gms. A little goes a long way! Price: $2.95 a box.


CHANDAN: a rare and natural fragrance from the most fine grained and precious wood in the world. The hand rolled sticks evoke the mystique of 'Chandan' and bring you its true essence.

HEM CHAMPA: Hem Champa Masala Incense is the most traditional of Indian incense. It is highly prized for its calming and purifing effect. In you like NAG CHAMPA you will like this one.

LEMONGRASS: A very crisp and bright citrus scent.

PATCHOULI: Rich and earthy with a dash of 'peppery' spice.

PRECIOUS CHANDAN: The exotic scent of India

SAFFRON: The rich and regal aroma from the Far Eastern treasure-chests to make an enchanting difference in the environs. Royal blend of exclusive exotica.

NAMO BUDDHA INCENSE -Tibetan Incense. 7-1/2" - $4.95 Out of Stock

Description from package: "This particular incense "Namo Buddha" has been prepared according to the instructions and mores laid down in Buddhist Texts. The contents in This incense has been collected from the high and unexplored mountains, the hot tiger prowling plains and the vast seas. The ingredints are just Natural Herbs collected and mixed in right proportions. The composition of this incense consists of 48 different types of medicinal herbs and plants.

This particular incense is specially used while meditating and along with the concentrating power it is supposed to give purity and peace to the person involved." Made by Hand in Nepal.

PURE SANDLE WOOD Tibetan Incense - 8" - $4.95 / 40 sticks. Out of Stock

From the package: "It is composed of special sandle wodd and Himalayan herbs. Ancient traditional orders of Tibet."

Click a above to see full image.

VIOLET: Dry, sweet and somewhat hay-like. MIND: Its sedative properties overcome insomnia and banish feelings of anger and anxiety. Reputedly restores bonds of friendship.

MYRHH: Smokey, gum-like and slightly musky. Myrhh Dhoop was used by the ancient world and Egypt for worship. According to Ayurveda, Myrhh is used in purification of physical bodies.

CARDAMOM: Sweet and spicy almost like bitter-lemons.

GARDEN SAGE - Pure Natural Incense. 15 sticks (15 GMS). $3.95