Knight People, Fair Psychics Page


JANE - Intuitive Tarot, Spirit Medium, Runes, I Ching, Animal Guides

Jane is a psychic intuitive and medium. She has been offering readings for 12 years,

working professionally in various venues throughout New England. Jane always focuses on offering help and hope to clients.

She also connects with loves ones 'on the other side'. A main goal is to offer solid validations to clients,

so they can be assured the information they receive is authentic.

A student of many spiritual paths, Jane brings varied modalities into her readings, such as the I-Ching, the runes, and the Tarot.

She approaches each reading individually. "I let Spirit guide me" she says,

"and trust that the information I am given is what the client is meant to hear".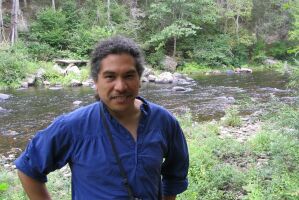 Emile de Leon - In House Psychic - Astrology, Tarot & Numerology.

Emile, Co-Owner of Knight People, is our In-house psychic reader, available daily by appointment. Call 860-347-3220 or email us in advance, or take your chance and walk-in during store hours.

A third generation psychic (his grandmother arrived in the US from Hungary complete with crystal ball!) Emile has been reading professionally for over thirty years.

An Astrologer, Tarot & Numerology Reader, Emile's psychic abilities also extend to the spirit realm with automatic writing and direct communications with those who have passed.

Emile is also available for phone reading (by appointment) as well as psychic parties.


Readings with Emile: $140.00 an hour.

Further astrological services available:

Computerized Natal Reports - $39.95 World Location Maps - $19.95


KAREN COTE - Celtic Stone & Crystal Casting, Celtic Wisdom Tarot cards, Psychometry, Channeling.

"My intuitive abilities were first evidenced at the age of 5 but it wasn't until adulthood that I began to hone these skills so I could utilize them in service to others. As a shamanic practitioner (I am a shamanic minister of The Circle of the Sacred Earth), I utilize many ancient, traditional forms of divination. My specialties (and favorites) are Celtic Stone Readings and Crystal Castings (which are drawn from my Irish shamanic roots), psychometry and spirit channeled intuitive readings. At a sitting, I normally like to do a combination of several to get a more intricate reading. I start by holding the person's hands and holding something metal (like car keys). I get info from this then I'll do a casting and/or stone reading, channeling info as I read the stones and/or crystals.

I'm a shamanic minister, Reiki master/teacher and certified hypnotherapist."